We don't plan on paying you $5000 because we are that confident in our prices!
However, Chevrolet of Columbus will pay $5000 if we cannot beat your best deal on a new Chevrolet.
Here's how our price guarantee works:
You must present a bon-a-fide Buyer's Order with a manager's signature from the competing dealership. 
The buyers order must include the make, model and a full equipment list of the vehicle being purchased. 
If a customer leaves Chevrolet of Columbus with a price on a vehicle and the customer receives a lower price from a competing dealership, Chevrolet of Columbus must be given the opportunity to beat that price. 
If Chevrolet of Columbus does not have the identical vehicle in inventory and is unable to secure the identical Chevrolet vehicle the $5000 guarantee will not be honored. 
We look forward to offering you the best price and service. Call or visit today!
Leo Portaluppi
Owner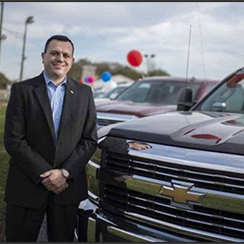 CONTACT US
* Indicates a required field