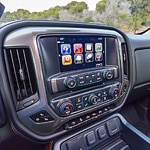 The capability, reliability, and fuel-efficiency of the full-size pickup keeps Chevy owners coming back time and again. Despite offering savings at the gas pump, the Chevrolet Silverado 1500 performs well. New owners need merely choose the level of power and performance they desire.
The Silverado 1500 comes standard with a six-speed transmission and a six-cylinder engine that achieves up to 285 horsepower. The combination is ideal for everyday commutes and light-duty jobs. More power is had in the four-cylinder turbocharged engine that delivers up to 310 horsepower. The 5.3-liter eight-cylinder engine generates up to 355 horsepower. The 6.2-liter eight-cylinder engine is the ultimate powerhouse when providing up to 420 horsepower.
The 10-speed automatic transmission is available on all Chevrolet Silverado 1500 models. With a beefy engine and a towing package, our Chevrolet of Columbus, Inc. pickups capably pull up to 13,000 pounds and carry up to 3,300 pounds.